Universal Robots Machine Tending
WMH Robotics offer a unique machine tending solution with the world-leading Universal Robot.
By enabling self-deployment we dramatically reduce cost (by up to 60%) and reduce lead times meaning you spend more time producing!
Self-Deployment Machine Tending solutions:
Work by using off the shelf components and custom frameworks

Low Cost & Short Lead-Times

Meaning ROI is typically under 12 months

Small footprint - No Guarding - Flexible Deployment (multi machines)

CNC signal integration is taken care of by our expert partners if required

Full on-site training is provided to get you producing quickly!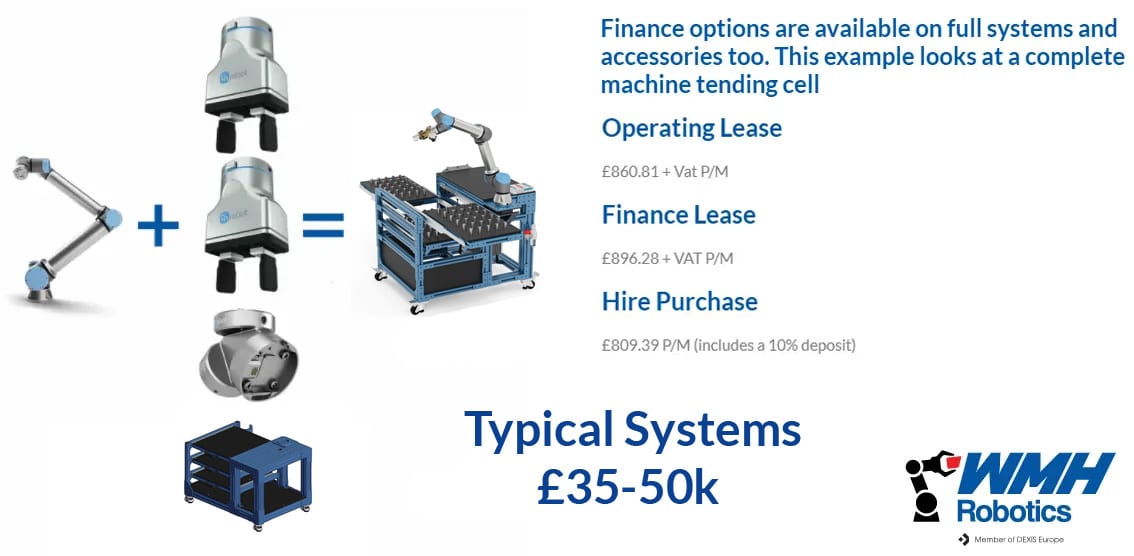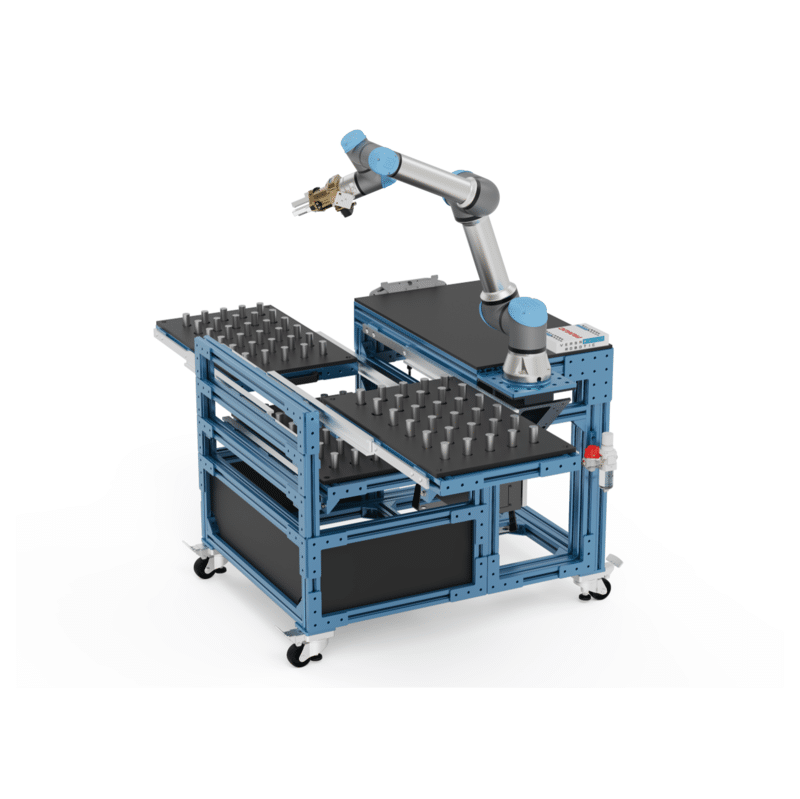 Get in touch to discuss your Machine Tending requirement:
At WMH Robotics we provide you with a cost-effective solution with 'off the shelf' components that are designed to work together. We then provide you with the training to deploy and take ownership of your solution. Providing you with a low cost, highly flexible solution!
Create a cost effective, flexible solution with off the shelf components
Common Machine Tending Opportunities:
Low, Medium & High volume production

Low-medium volume manufacture

Parts up-to 15KG in weight

De-burring while machine is running

Automatic CMM or inspection loading

Machine tools, test machines, assembly machines etc.
Relieve machine operators from physically demanding, repetitive work and eliminate the risk of injuries. A collaborative robot can be used to tend machines such as CNC, injection moulding, press brakes, stamping presses and more to free employees for more valuable tasks.
Improve speed and process quality while reducing the risk of injury associated with working in close proximity to heavy machinery. If the machine tending robot comes into contact with a person, our patented technology limits the forces at contact. UR robots can also be programmed to operate in reduced mode when a human enters the robot's work area and resume full speed when the person leaves.
Add value to your business with the collaborative robot arm that pays for itself more quickly than any other robot in the industry. With UR's fast and flexible deployment, you can quickly adapt production lines to new products. Universal Robots provides a future-proof platform for small businesses looking to optimize productions.
If your workflow changes, the robot can be deployed quickly and easily in new constellations due to its small size and lightweight design.
Machine Tending Cell Examples:
Machine Tending Cell Videos: