When we think of safety and machines we think of guarding. This is certainly not the case when it comes to Cobots.
Universal robots have always been designed with collaboration in mind and have been at the forefront of paving the way into the close working of humans and machines.
Universal robots have 15 years of data and experience and provide you with all the tools to create a safe, collaborative application. Standards and information:
All EN ISO 13849 1, CAT.3, PL d Certified by TÜV NORD
Full ISO 10218 1 compliance, certified by TÜV NORD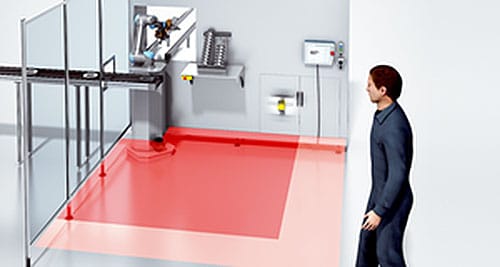 Four Types of Collaborative Operation
Safety rated monitored stop
The robot system will stop before the human operator can access or be exposed to any hazard in the collaborative workspace.
Hand guiding
The human operator can use a hand-operated device and the robot system moves based on motion commands of the operator.
Speed and separation monitoring
External safety devices such as safety scanners can be used to lower speed as a person approaches the collaborative workspace. As long as the risk assessment is conducted properly, traditional guards and protective devices are not needed.
Power and force limiting
If the robot detects a certain level of power or force, the robot stops the robot system to protect the human operator. Due to the safety-functions for motion, speed, force, and power monitoring, the human and robot system can move at the same time in the same workspace.
When Additional Safety is Required
In cases where the operation is deemed to be unsafe, for example using an external 7th axis, there are many tools available from WMH in order to add additional safety equipment if required. These include:
Area Scanners – Where the robot can go into reduced speed or even stop if a person enters a set perimeter around the robot.

Light Guards – Creating a light beam, which is broken reduces the speed or even stops the robot.

Force Sensors – To add additional touch and feel to the robot and enable a stop.
Cobots are as safe as using a handheld tool. In the right hands with the correct training, they are completely safe to use.
There are 17 safety functions built in to the UR system and additional safety devices can be used where it is deemed necessary. They are connected to the robots control panel via 16 configurable I/O.