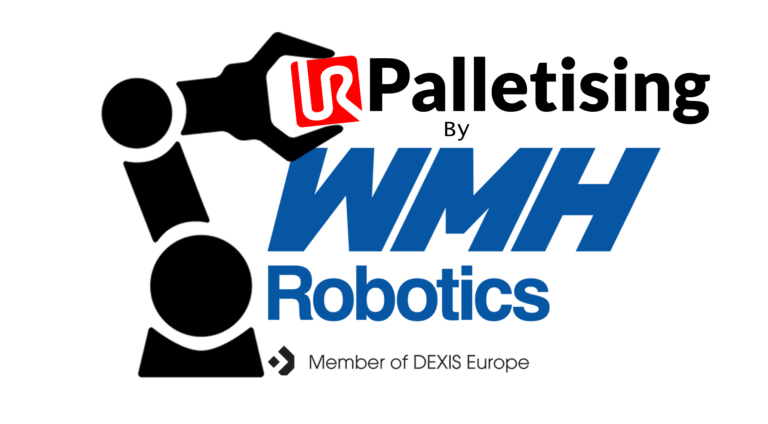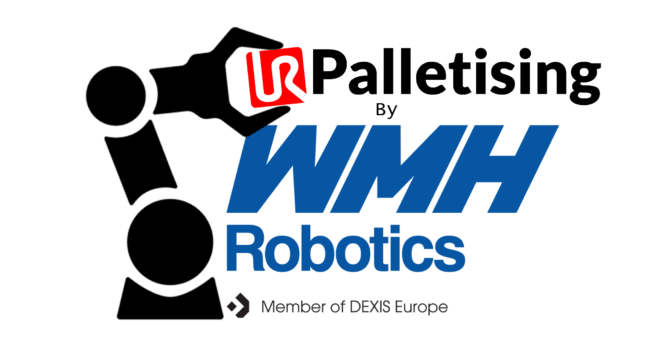 Palletising remains the most in-demand application for Cobots in the UK due to a number of factors in the UK Economy. WMH have seen this requirement and developed a low-cost, flexible, small-footprint and easy-to-use system:
By utilizing 'off-the-shelf' components we have removed the requirement for any labour hours, therefore you only pay for the goods you are purchasing, not for the development time.
Small Footprint - Allows systems to be retrofitted without the expense or hassle of re-locating machines

Flexible Deployment - Only 1-2 sensors are required on your outfeed conveyors.

Short lead times - With systems typically being delivered in 5-7 weeks, you can scale to demand quickly.

No Breaks - Robotic systems don't take a break, have a holiday or even call in sick. They are your dependent workforce!

Low Cost - Using off-the-shelf components, we create proven systems with the market-leading components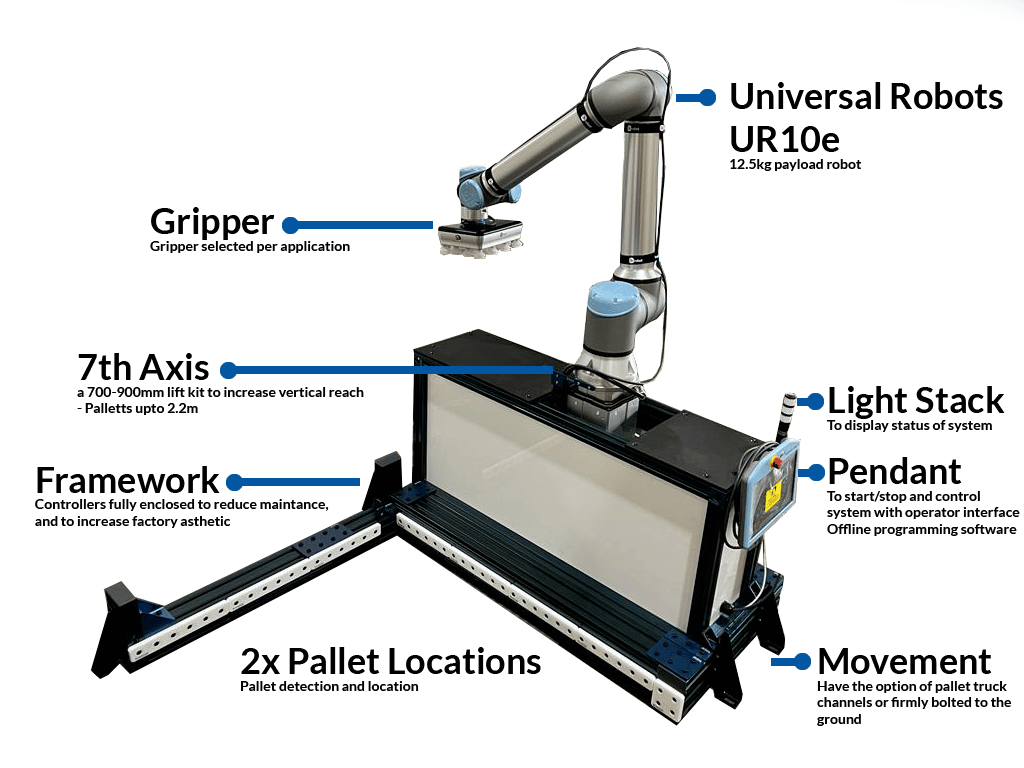 UR-Palletising includes 5 core elements:

New for 2023 - Introducing our optional UR-Safe package which includes an additional level of safety (3x Area Scanners) and a UKCA Certificate of Incorporation.  See attached brochure for more information
The UR10
e

is an extraordinarily versatile collaborative industrial robot, delivering both high payload (12.5 kg) lift and long reach (1300mm) which makes it well suited for a wide range of applications in machine tending, palletizing, and packaging.
PALLY - Offline Programming Software
Pally

 is a palletizing URcap designed to be smooth, flexible and quick to install
. Automate your palletizing with our software. It handles changes in productions with ease and 
requires no downtime
.
Rocketfarm specializes in software development for Universal Robots. We are UR+ certified and recommended by UR.
Lift Kit - Extedning Vertical Range
We include a lift kit with all our palletizer solutions. The lift kit provides you flexibility and range required to complete the job.
A compact solution means we can maintain a small footprint.

No open guides or mechanisms allow for safe operation

Robust and proven solution by a top manufacturer

Full UR Cap & Integration with Pally Pro software
EOAT - End of Arm Tooling
Gripping technology is the biggest unknown in a palletizing project. We need to work with you to understand your product and work backwards from there to ensure the right solution.
With over 800 'off the shelf' products to choose from, all of which 'plug & play' we still maintain the element of simplified deployment.
In combination with our suppliers, we can specify the right end-effector for your product/s.
Find out more - How can we help?