WMH Robotics are proud to offer these quick and easy to deploy machine tending solutions with our partner EasyRobotics.  EasyRobotics has a wide range of products designed applying state-of-the-art technologies and innovative attributes.
Each product of EasyRobotics is catering to the automation needs of the businesses that aim to make production more efficient and profitable. By providing a platform to deploy applications on, Easy Robotic reduces the time taken to deploy a solution.
The ProFeeder X is designed to support higher production series. It is one-of-a-kind machinery that can be equipped with multiple trays of options depending on the requirement.
The idea is to lower the cycle time and speed up the production for larger outputs. The ProFeeder X can support up to 10 trays that are well suited from small to large series production.
The system is fully automated and highly compact that helps the cell to be placed on any kind of machine. Due to 2, 5, or 10 trays, the ProFeeder X can be used for any task in a limited time.
Like ProFeeder Compact, this application is also available in two variants based on the locking system.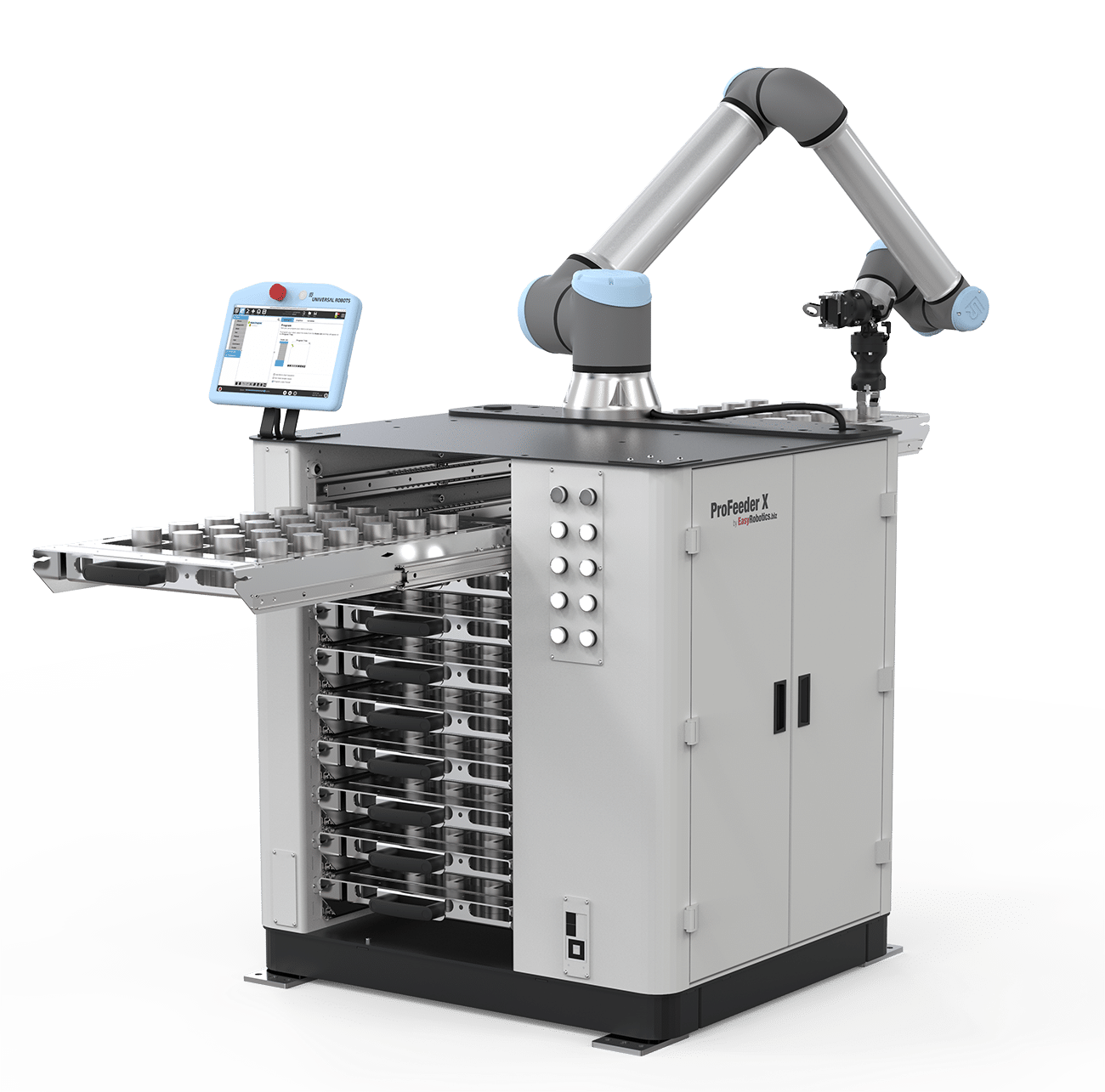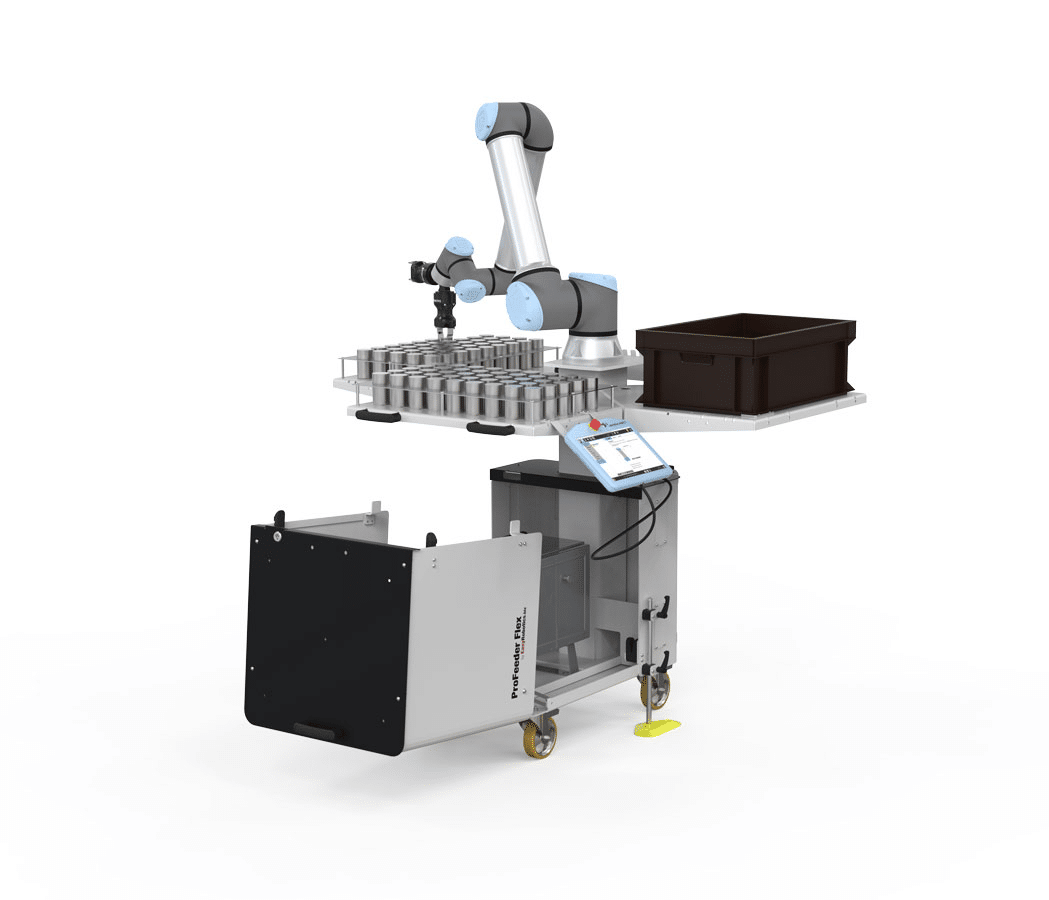 The ProFeeder Flex is the new entrant in the ProFeeder family, which already has over 500 units across the globe. It is a robot cell that allows flexible maneuvering around the factory premise.
It is a highly compact and supple ProFeeder that is compatible with Universal Robots.
Highly Manoeuvrable: The system is easily moveable around production and can be placed in a limited space capacity in the factory premises.

State-of-the-art Design: The ProFeeder Flex has an option to have the robot arm placed centrally or built-in on the pedestal allowing space for a cable guide.

Innovative: It provides flexible mounting for the teach pendant and extra space to store the controller in the compartment.
EasyPalletizer is built upon the popular industrialized design and function in which all EasyRobotics products are recognized for stable and robust designs.
The EasyPalletizer consists of a Europallet sized console consisting of a compartment for; robot controller, cables, hosts and lifting module from SKF or pedestal. The EasyPalletizer is designed robust with 300 KG of total weight without robot and lifter mounted.
Each side of the EasyPalletizer consists of a docking system for pallets that measure the placement of the pallets.
EasyPalletizer is a platform for making palletizing effortless and smooth. It can be equipped with a robot arm that has various useful advantages for the packaging industry.
The inclusion of robotics in automation ensures flexibility, reliability, and productivity. The idea is to assist with short product life cycles, the latest packaging designs, different product variants, and batch manufacturing.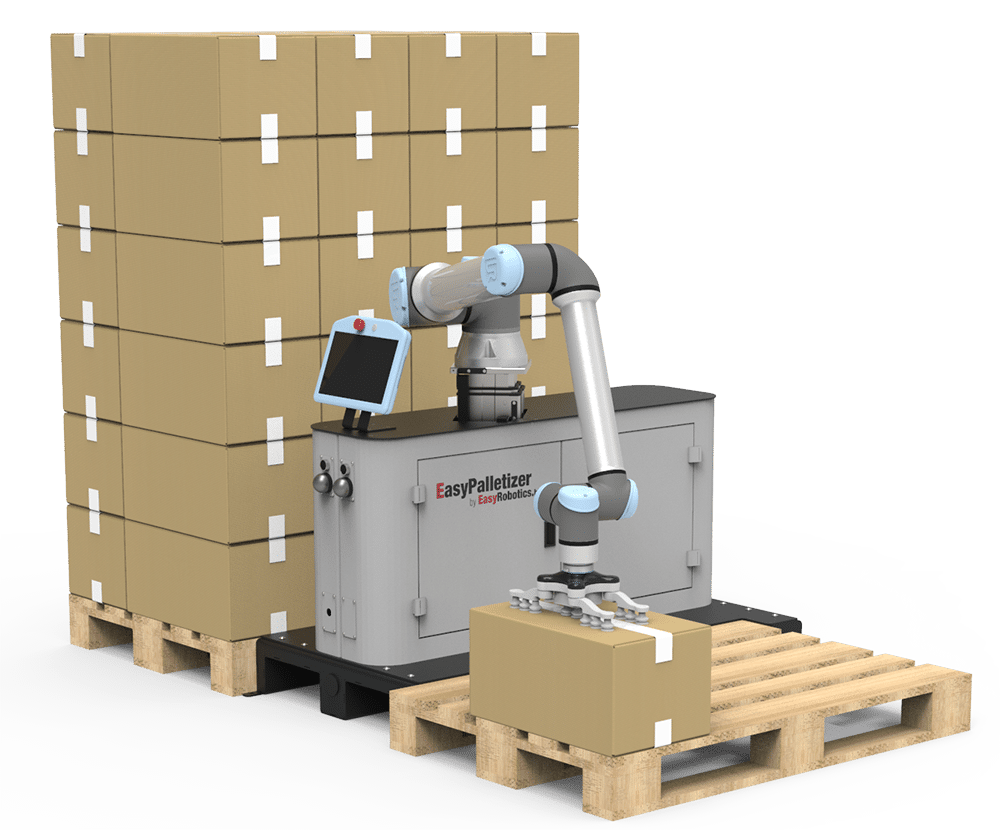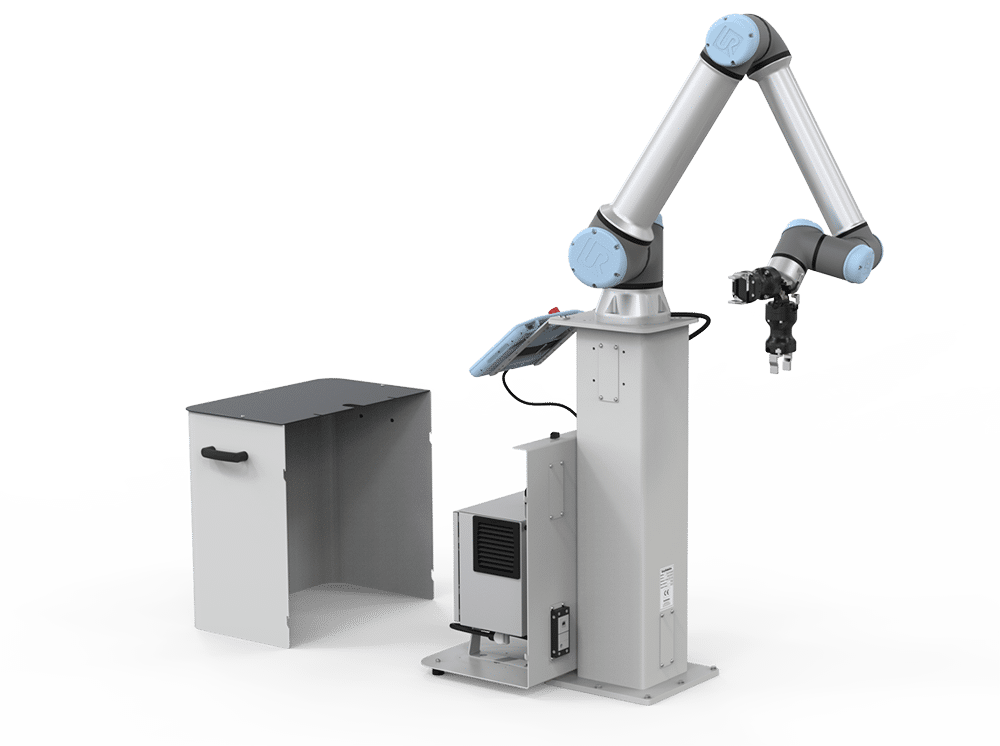 EasyPedestal can be operated not only in combination with the highly efficient ProFeeder or ProFeeder Compact but also used individually.
It is suitable for various types of machines, in different workstations. EasyPedestal is a very adaptable product and when it works in combination with ProFeeder it produces tremendous results.
It is one of a kind tool that is created for the purpose to support the users in ways that can be essential in making the collaborative robot more efficient.
Great for any robot deployment.

Safe housing of control cabinet & pendant.
In 2015, EasyRobotics created ProFeeder, the first flexible and compact automated robot cell. It can be easily mounted on a robot that enables parts to operate with CNC lathes and milling machines.
The ProFeeder robot cell consists of 1 basic module, 2 movers with 2 flexible part trays. The part trays are automatically centered and are designed to accommodate all part types.
Increased Throughput - The solution makes it possible to introduce light out production.

Great investment - The typical return on investment is less than 1 year.

Quick change over time makes ProFeeder suitable for small and medium production series.

Increased efficiency - Automated supply to the CNC machine ensures consistently high quality. The required man-hours for operation can be reduced from 8 hours to less than 1 hour.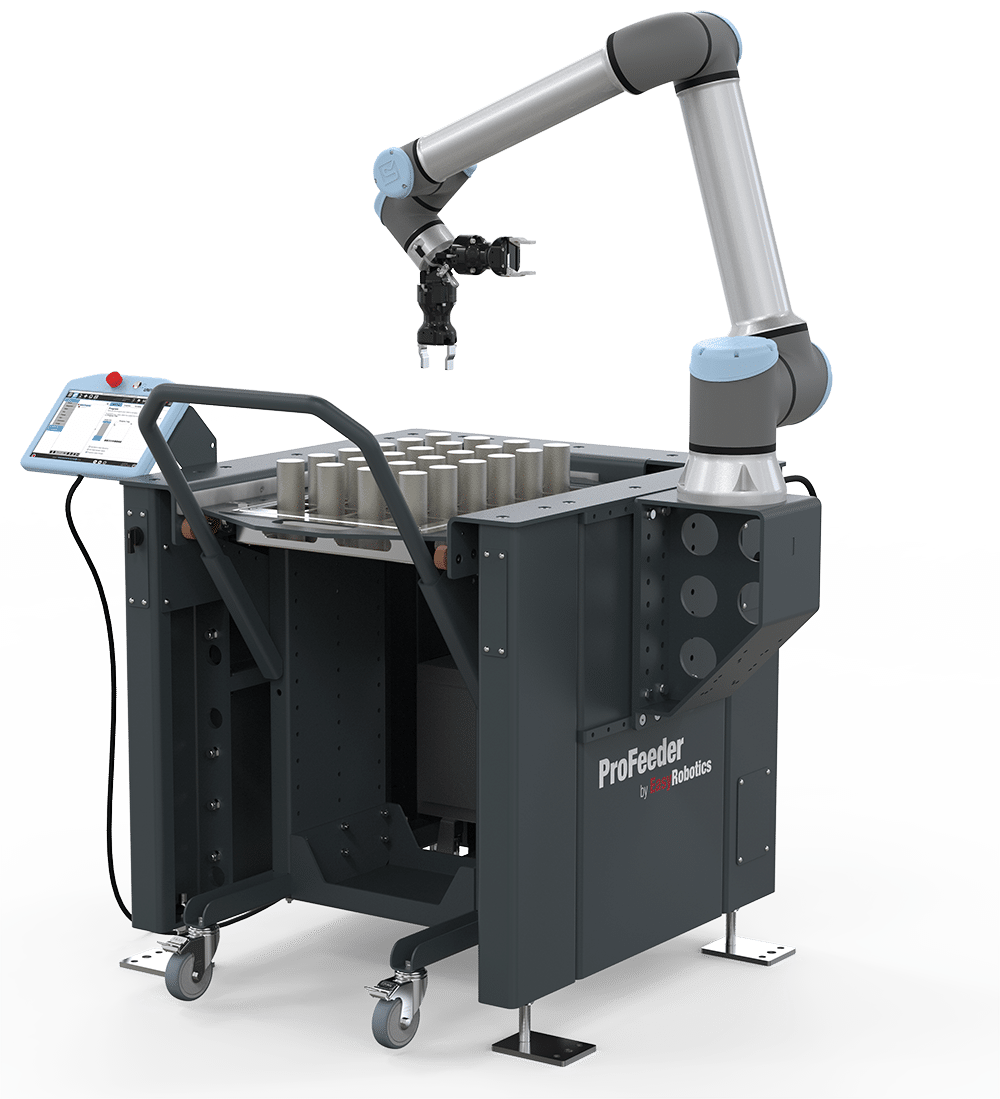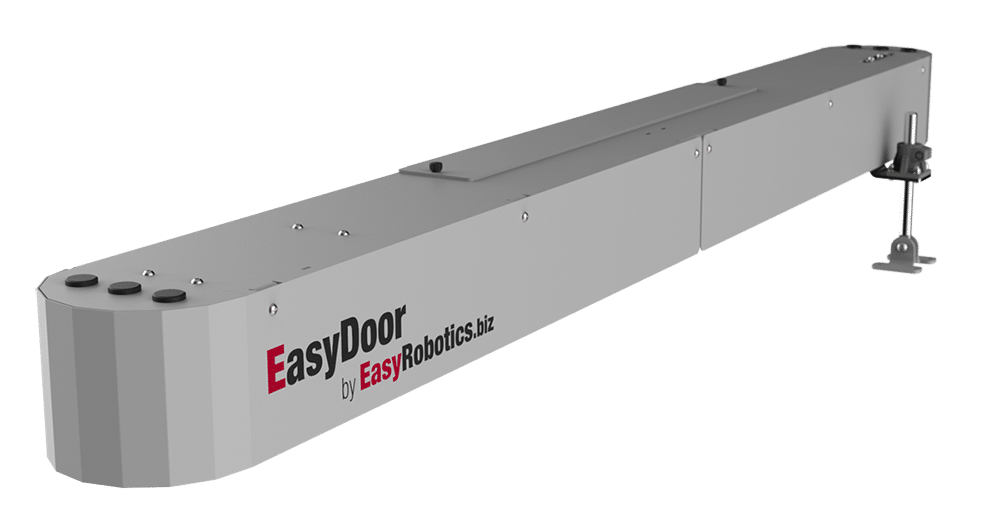 EasyDoor is a flexible automatic door opener constructed with components from Siemens and it supports multiple applications in the CNC machining industry.
It can be used as a single door opener and can manage weight up to 180 kilograms.
The system is highly safe, performing automatic detection of end positions and travel distance with accuracy in just a few seconds. In the presence of an obstacle, it can reverse the door operation, similarly to an elevator door.
Other Solutions From Easy Robotics
The scaled back version of the ProFeeder with fixed parts tray. Ideal for fixed, small deployments.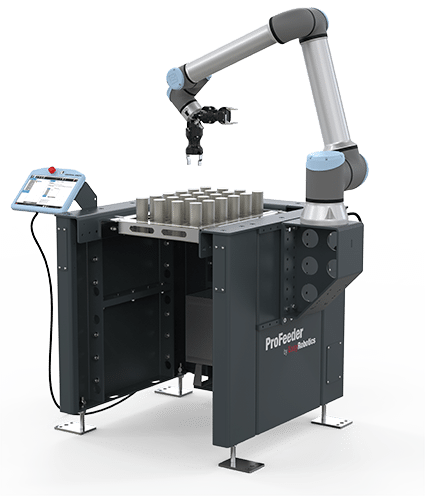 The scaled back version of the ProFeeder X – Without Robot and controller mount. A perfect addition to an existing solution.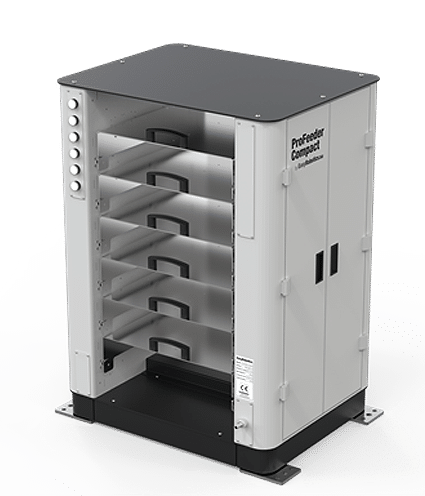 Perfect for a variety of deployments including assembly and where 3rd party equipment like jigs are required.