Automated Palletising System
Pallet configuration is performed on a separate laptop to ensure the palletising system remains in production whilst preparing new products.

Pallet trucks can remove full pallets without it stopping palletising on the 2nd pallet.

Footprint – 3.4 m x 2.4 m.

Maximum pallet height of 1.9m.

Fully CE Marked Solution.

One end effector can handle multiple case dimensions. An OnRobot VG10 gripper is used for standard cases. Olympus designs and manufactures bespoke grippers for more complicated pick/drop requirements.

Supports pallets up to 1200 mm x 1000 mm.

Bosch Rexroth linear slide.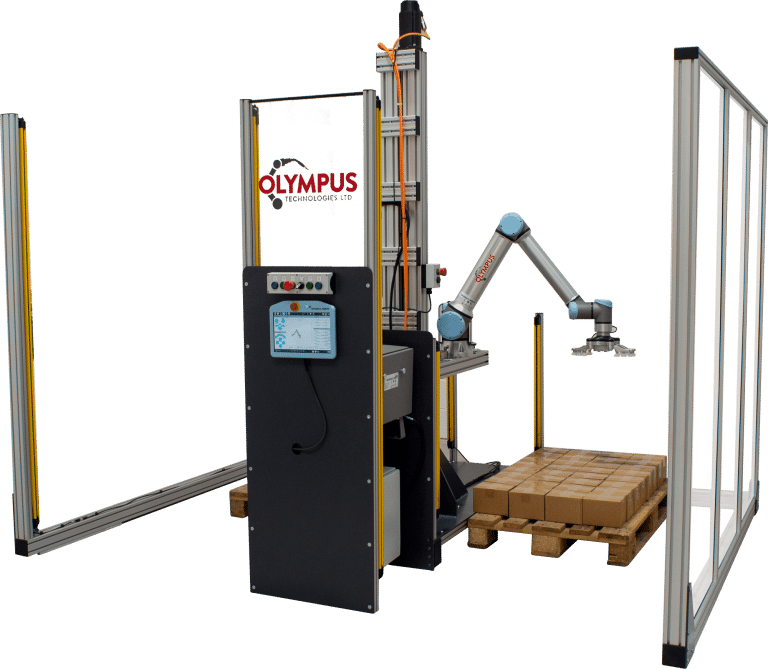 Pallet configuration is performed via the easy-to-use PC application to ensure your palletising system remains in production whilst configuring new pallets.

Place your cases on the graphical pallet and let the software do the rest.

Every layer can be configured differently.

Offline configurator automatically chooses an optimal pick/drop routine.

No robot programming necessary: the Olympus Palletising URCap creates the robot program automatically from the configuration file.

The completed pallet configurations are stored on the robot: there is no need to re-import existing files from the configurator. To change the product, simply run another program on the robot.