Working in partnership with Olympus Technologies Ltd, WMH-Robotics is able to provide the solution to your repetitive welding processes through a UR+ certified Universal Robot Welding System.
Universal Robot Welding System
Olympus Technologies Ltd. has developed a unique Universal Robot Welding System that can be deployed easily and flexibly in existing manual welding booths, eliminating the need for costly new robotic cells.
The application is capable of providing an economical and high quality robotic welding solution, perfect for simple and repetitive welding processes.
The Olympus Technologies Cobot Welding System has been certified by Universal Robots as part of their UR+ program. In order to gain the UR+ certification the Olympus Technologies welding system was put through a series of tests by Universal Robots in order to ensure its functionality and usability.
With over 30 years of welding, robotics and automation experience, Olympus Technologies' UR welding system delivers unique benefits:
Affordability: Great value for smaller businesses seeking to invest in robot welding.

Easy Programming: Simplest programming interface on the market – quick and smooth transition into production. Full training included.

Fully Integrated: Welding characteristics controlled on robot, changes can be made mid-process.

Compelling Cost Benefit Case: Customers typically see 4x productivity increases.

Consistent Quality: Every part is welded to the same quality, providing the source parts are consistent.
Universal Robot 6-axis robot UR10 (1300mm reach from base without torch)

300 Amp MIG welding power source

Dinse Robot Torch + Starter pack of consumables

UR Arm Protective Welding Cover

1 Day's Installation and Commissioning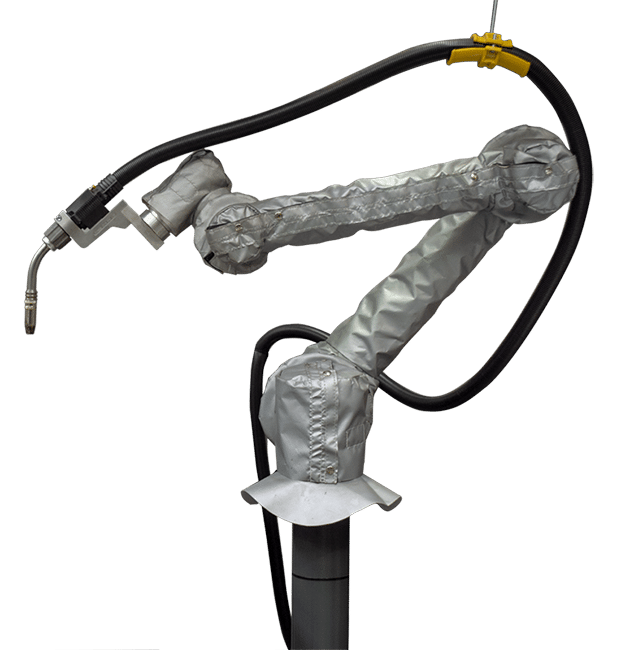 We are extremely excited to announce the arrival of Olympus Technologies' Oscillation URCap, software to enable gluing, dispensing and welding customers to weave complex paths.
The URCap software package provides a set of simple functions to create paths along which the robot will travel at a specified speed whilst performing one of four configurable weaving patterns.
Weaving patterns can be started, stopped or amended mid process, giving you complete flexibility in your application.